Visited April 2011
Itinerary PDF to print
Our week-long road trip to the Southwest in 2011 was the first time that we had friends ask to borrow our itinerary afterwards. We know of 3 friends who have taken a version of this trip, and others have shared it with their friends. We flew from Boston into Phoenix, explored Sedona, had some fun stops on the way to the Grand Canyon, drove to Page, AZ to see Antelope Canyon, made our way to Bryce Canyon in Utah, and finally spent a few days in Las Vegas, NV. Our girls were 12 and 10 so we tried to factor in how many activities and how much driving they could handle in a day. Itinerary details are in the pdf, so I just wanted to share some favorite photos here.
Day 1 – Phoenix, AZ
Drive: Phoenix to Sedona (120 miles, 2 hours, 5 mins)
We didn't explore anything in Phoenix but just drove directly to Sedona. But this was the amazing view from our Best Western Sedona hotel room!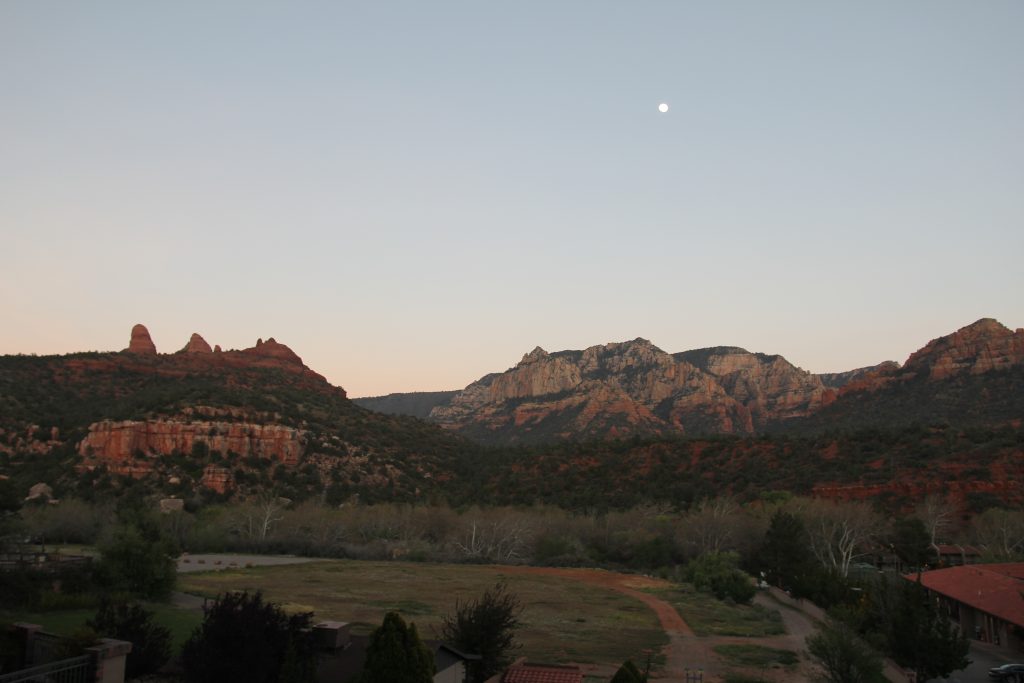 Day 2 – Sedona, AZ
Drive: Sedona to Grand Canyon (109 miles, 2 hours, 35 mins)
Had a great time on the Broken Arrow Pink Jeep Tour. In the afternoon we also enjoyed a short hike in Red Rock State Park and stopped in at the Montezuma's Castle National Monument.
Day 3 – Jerome, Sunset Crater, Sunset at Grand Canyon
Drive: Sedona to Grand Canyon (109 miles, 2 hours, 35 mins)
We made several stops on our way from Sedona to the Grand Canyon. Jerome is an old mining town turned artist colony of sorts; it's on a mountain with a winding drive to get there. We also stopped at Sunset Crater Volcano National Monument, which was great for a short stop. We had dinner at El Tovar and enjoyed the Grand Canyon at sunset.
Day 4 – Grand Canyon National Park
Drive: Grand Canyon to Page, AZ (139 miles, 2 hours, 31mins)
We ended up taking the bus down a number of stops and walking back, which gave us a good feel for the park.
We decided to backtrack just a bit and head out of the park to watch the IMAX video and grab lunch on our way out of town. Then we drove to Page, which has so many very cool things to see. If we went again I'd probably spend a second day here in the Lake Powell area.
Day 5 – Page, AZ – Antelope Canyon, Horseshoe Bend
Drive: Page to Bryce (151 miles, 2 hours, 35 mins)
We had so much fun in Page. First we went to Horseshoe Bend. It was VERY windy, which hampered how close we could get to the edge, but also how long we wanted to stay as we were getting pelted with blowing sand. I'd say this is definitely worth the trip.
That said, it paled in comparison to our favorite destination on the trip, Antelope Canyon. This slot canyon is such a unique experience and it positively STUNNING! A must see.
Day 6 – Bryce Canyon National Park
Tom and I have been here before, in 1993, and we once again really enjoyed this Park and were glad to be able to see it with the girls. It is much cooler than the rest of this trip, so you'll need to dress accordingly.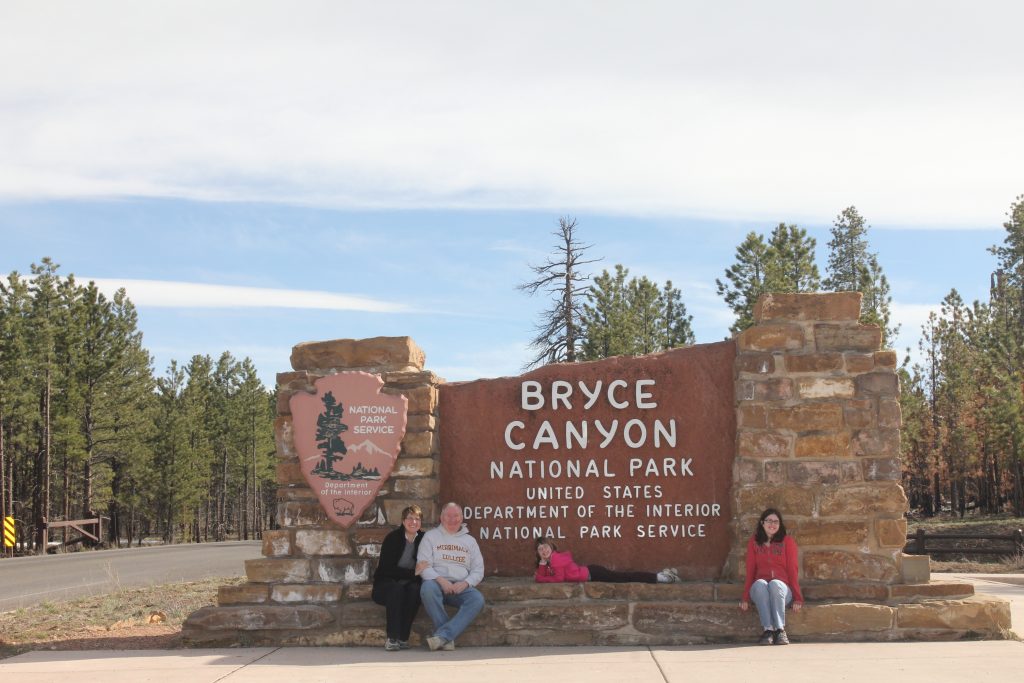 Day 7 thru 10 – Las Vegas, NV
Drive: Bryce Canyon to Las Vegas (4 hours)
We slept in on day 7 and then took the 4-hour drive to Las Vegas. It's such a contrast to all the beautiful nature we were immersed in all week, but by this time we were ready for it. The one splurge plan we had was Day 8 evening tickets to see the "O" Cirque du Soleil show at the Bellagio, which is the water one, and it's WILD – I highly recommend. The rest of day 8 and 9 we spent exploring – lots and lots of walking, but also some time relaxing in the hotel pool. Day 10 was just a travel day back home with 7am flights. We didn't use the car in Vegas at all. Too expensive to bring in and out of our parking garage and then park. It would have been cheaper to drop the car at the airport on day 7 or 8 and then take a taxi to the airport on day 10, especially since we could see the airport from our hotel room. Live and learn.