Visited September 2021
Also, be sure to check out the post about our whole 15-day Colorado-New Mexico-Utah trip.
Update: January 2022 – Arches is now piloting a timed-entry ticket program.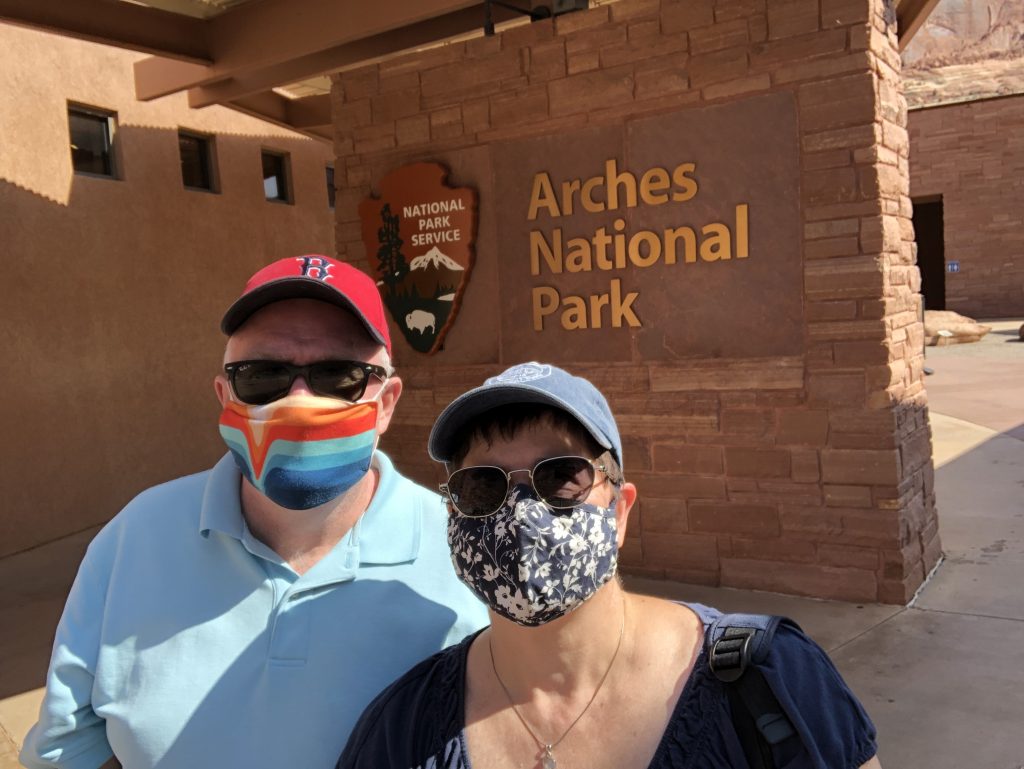 I have been looking forward to seeing Arches for some time. We've been to the Grand Canyon 3 times with a variety of other National Parks, and each time I've tried to squeeze in Arches, but ended up letting it go as just too far.
Since this park doesn't have timed entry, I did considerable research for the best way to see the park due to both traffic concerns (the entrance shuts down when the lines are too long) and temperature concerns (highs were in the 90s). I found blog posts by Full Suitcase and Red Around The World to be very helpful when pulling together the following plan. Our goal was to see a maximum number of arches with minimal hiking, and to fit in that hiking before the temperature climbed.
So this is the one time this night owl was not only up, but in the park for sunrise! There was no one at the entrance booth (so we didn't get the map or photo with entrance sign until the way out). It was pitch black, so bring a good flashlight if you plan to walk at all before the sun is up. And we made sure to dress in layers, which we shed over time.
We started at sunrise at Balanced Rock (above), taken from the parking lot – only 2 other cars were here.
We then headed to Delicate Arch, not to hike to the arch but to see it from the Viewpoints. We did do a short walk/ascent to the Upper Viewpoint, which is still very far away from the arch, but actually thought the photos from the Lower Viewpoint just off the parking area had a better angle (both taken with a telephoto lens).
We then drove all the way to the end to the Devil's Garden Trailhead, where 4 arches seemed to be within reach for us (1.6 miles one way, which would be our furthest walk planned). We were able to see Pine Tree – one of our favorites, Tunnel, Landscape, and Partition arches. It was getting warm by our walk back and MUCH more crowded. The parking lot was full and people were circling waiting for spots to open up.
At this point we began heading back south along Arches Scenic Drive toward the entrance, and we made a quick stop at Skyline Arch, which you can see from the road.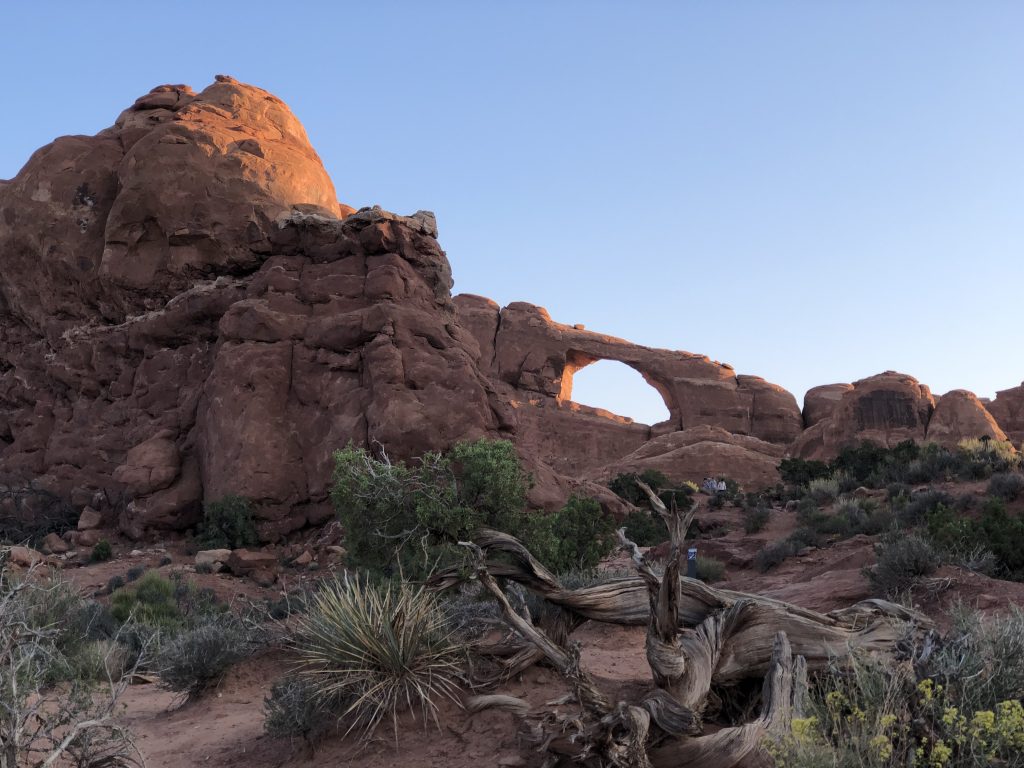 We then turned down the road to the Windows section. It was really cool that both North and South Windows were easily viewed from the parking lot, and we might have walked closer had we not been pulled by the Double Arch right on the other side of the parking loop. Double Arch is so visually interesting, and we got out and walked closer but decided not to climb all the way up. Also, we noticed some cool structures with holes to the left of Double Arches but didn't realize it was the Parade of Elephants. Google images to see how cool this structure can look if you get photos from a better angle than I did.
At this point we were admittedly getting a bit tired and hungry and decided to pass on the Petrified Dunes viewpoint, Courthouse Towers viewpoint, La Sal Mountain viewpoint, and Park Avenue viewpoint. We stopped at the visitor center to take a photo with the sign and pick up the map. The entrance was now closed and we watched the line of cars being turned around and were thankful we had gotten up early and had seen so much before the real heat of the day kicked in.
Over lunch we tried to determine if Canyonlands National Park was also closed. The web site and radio message for Arches didn't list that they were full so we weren't sure of a reputable resource that could tell us about Canyonlands other than actually driving to the entrance. The drive wouldn't be bad – just 30-40 minutes to the Islands in the Sky visitor center – but that's 1 hr – 1hr 20 mins if we were just turned around at the entrance. Our plan was just to take the Mesa Arch easy hike of a .5-mile loop and then just drive around and check out the park. Ultimately, we decided that a nap and the pool/hot tub was the more appealing option. That said if you're not as tired from the early wake-up and it isn't in the 90s, I think it would be very cool to hit both parks in one day. Especially if you have the America the Beautiful pass.
Hotel: Scenic View Inn & Suites Moab, 2701 U.S. 191, Moab, UT 84532, 435-355-0630, confirmed no pets. Two queen beds, 2 nights $445 total, includes breakfast, has laundry, outdoor pool & hot tub, free Wi-Fi, TV, ice machines, refrigerator and microwave. "Scenic view" is a bit of a misnomer – yes red rocks are all over but rooms face RV park and condos. Not right in downtown but close enough. Beds were comfy with good pillows, nice décor and very nice shower, good wifi, breakfast waffles and juice were good, surprisingly no eggs, hot tub was nice, pool was surprisingly chilly for 90-degree days but felt good after being in the park. Overall solid choice.